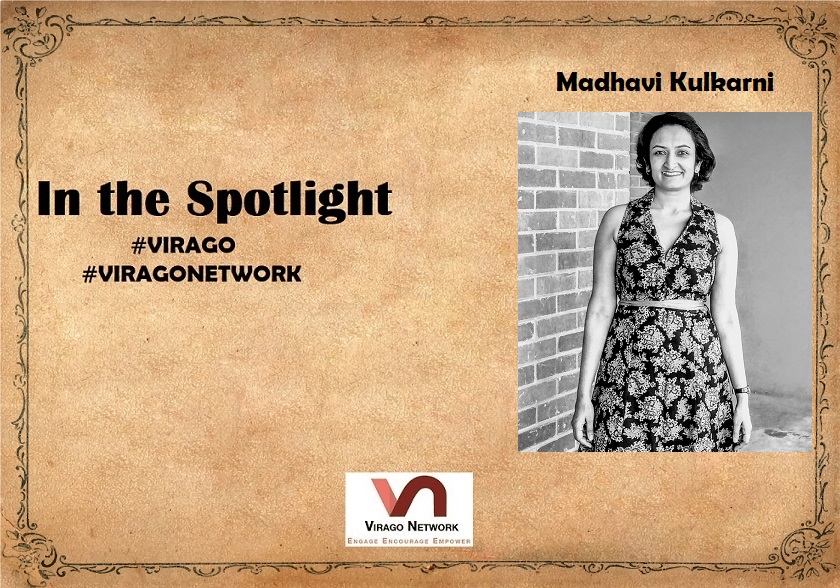 Madhavi Kulkarni – Diversity and Equity Professional
Meet Madhavi Kulkarni – Diversity and Equity Professional
Highlights about Madhavi:                 
Diversity and Equity professional, SUM collaborative
HR Coordinator at Foodshare Toronto
Youth Mentor with YES (Youth Employment Services)  
VN: Please tell us about your profession?
I am a Diversity and Equity professional working towards improving organizational practices and introducing equity into daily work life. I am part of an amazing collaborative called the SUM collaborative, which consists of women across the world from various fields, who are working towards improving inclusion, belonging and equity across their specific fields. You can read more about them here:
https://www.womensworkinstitute.com/the-collaborative
Presently, I am working as the HR Coordinator at Foodshare Toronto, a non-profit
organization that works with communities and schools across Toronto to deliver healthy food and food education, while striving towards Food Justice. We believe every single person deserves access to affordable high-quality fresh food. As part of this role, I handle end-to-end HR needs and requirements for people with varied employment styles, while uplifting existing processes to improve employee equity and experience. This is seen as an opportunity to tackle systemic barriers facing people across all ethnicities, as well as working towards equity in our employee life cycle by targeting and reducing bias, celebrating differences and opening dialogue on sensitive topics that impact a lot of people.
I am also a Youth Mentor with YES (Youth Employment Services), where I work with youth with underprivileged background and provide support and guidance on career mapping, how to prepare for interviews and nail them, how to identify which field to work in, and
how to work towards improving skills constantly, that will allow them to apply for higher positions.
VN: What's the #1 attribute that helped you get where you are in your career?
It was a belief that I am capable of doing anything I want to. This has made me learn a lot: from everyone around me, about every possible field and how that knowledge can be used to improve an organization.
VN: What were or are the biggest challenges you faced going back into the workplace after children?
I have a beautiful daughter, and I took a conscious decision to stay at home until she grew big enough. I never use the word "Restart", but the word "Resume" to describe my journey back to being a working woman. The biggest challenge I faced was convincing hiring managers and recruiters that I have not lost any of my skills during my break. People never lose skills. In fact, it has been proven that becoming a parent gives people skills that they would not learn easily at corporate settings – ideating without boundaries, mediation, patience, preparation, empathy, counselling, negotiations etc.
VN: How do you manage your family life while pursuing your career?
I ensure work stays at work, and the minute I enter my home, my time is entirely my family's. I have a lot of support from my spouse, and this is THE most important factor that assists parents in getting back into the workforce. I also discuss challenges I may be facing with my spouse, parents and in-laws, to get an outside opinion or suggestion, that usually helps me see varied viewpoints and helps with my decision making.
VN: What accomplishments are you most proud of?
Quite a few actually! One was when a woman sales agent in her 40s told me that since she has seen me work hard and actually lead a team, she too feels she should grow upwards in her job. She then worked towards her goal, and is presently leading a team of sales agents, and is on the fast-track to an assistant manager post. Another is when I shifted countries, had to give up a stable career and had to start a few steps backwards, without letting go of my goals and dreams. Lastly, it is every single time when my daughter tells me she wants to grow up and work, like me. That is the biggest lesson I can give her – that she should become independent, be able to live a financially secure life, and is capable of doing anything she wants to in her life!
VN: What has been the greatest challenge(s) in your career and how did you overcome it (them)?
My biggest challenge has always been with getting people to take me seriously, and acknowledge my ethics & skills. I have been made fun of, for standing by my ethics. I have been berated for not having skills equal to a male colleague. I have been ridiculed (really!) for having a child and daring to resume my career while she is still young. I handled all this with conviction and a belief in myself – Ethics are non-negotiable (I would not want to ever work for a person or company that asks me to compromise on my ethics). Skills- I can learn what I don't know, and I can prove my skills through the work I do. Having a child and resuming work – It is really no one's business as to if and when I should work.
VN: When faced with adversity, what pushes you to keep moving forward?
It is the saying – Tough times never last, tough people do. Also, a very important lesson from my parents – Learn when things go wrong, and make sure you don't repeat the same mistake. There is no better time to learn.
VN: What are the challenges to female leadership?
I feel token representation is the biggest challenge that women face in leadership roles. They are brought on to show diversity but are measured differently compared to their male counterparts. These days, a lot of talk around equity and diversity is starting to impact such actions, but a lot still needs to be done. There is a widely-held consensus – Women need to learn more, prove themselves more, keep innovating themselves, "pretend" to be non/less emotional…. Thankfully, a new breed of colleagues are present who do not expect this from any woman. She should just be herself and give her best, just like male employees. She should be treated equally, tested equally, and rated equally – and the onus of this lies on supervisors and organizations.
VN: What are some strategies that can help women achieve a more prominent role in their organizations?
Organizations need to look at this as an overall issue – Women across all levels should be encouraged to work, they should be treated on par with their male colleagues, they should be paid at the same rates (Equal pay is a right and a must!), they should be assessed against the same parameters as their male colleagues, they should be considered for the same opportunities that their colleagues are considered for, they should be mentored equally (actually more!), they should be recommended for higher positions as much as possible – These are just some of the actions an organization can take to help women achieve prominent roles. Women need to have some awesome mentors – networking, connecting on LinkedIn, identifying bosses or colleagues who act as great sounding boards – these are just some actions that women can take.
Finally, it is just a belief in themselves, that they are capable of doing anything they dream of doing, and that they have the courage and capacity to do so – This is the biggest motivator of them all!
VN: Have you encountered any gender-specific challenges or obstacles in your career?
Of course! I have been told I am too emotional (Just like a woman! Sigh!), too empathetic, too family-oriented (So were my male colleagues at that time!), too much of everything else!
VN: If you had the power to change one thing in the corporate world for working mothers, what would you change?
I would slightly amend the question to apply to all parents – not just women. I would ensure all working parents have childcare facilities at their workplaces, are allowed to work flexibly whenever they need and are never questioned about their choices! We live in an extremely connected world, allowing people to work from anywhere. This should be leveraged to the max to allow people to stop worrying about their kids and work, and work comfortably. Also, parents should not be penalized for putting their kids before work – if their kid is ill, they will not be able to give their best anyway! Allow them to spend time with family… they will come back refreshed and full of innovative ideas!
VN: What is your definition of success and/or your mantra?
I don't have a mantra as such – I just believe that a woman has an inner power, a strength, that gives her so much courage to get through anything and everything in life. I gauge my success by my happiness, and the satisfaction I get in doing small things – both at work and in my personal life.
VN: Which Female Leader(s)/Entrepreneur inspire you the most and why?
There are so many amazing women across the world! Presently, I am super thrilled by Nirmala Sitharaman (Finance Minister, India).
During her previous tenure, she was the first woman Defence Minister of India. During her present tenure, she is the first woman Finance Minister of India, having presented her maiden Budget. Imagine the number of glass ceilings she must have shattered!!
VN: What are your thoughts on the glass ceiling? Does it still exist for women in the workplace? And if so, how can women professionals navigate that?
Yes. The glass ceiling does exist. Believe in yourself, have some great mentors, learn how to navigate tricky situations, constantly learn about every possible thing under the sun (tough, but we are quite smart!) and remember, to jump high, you always bend your knees first! Don't think of giving in as something negative. It just gives you the drive to jump high in life!
VN: If you could go back to when you were just beginning your career, what advice would you give yourself?
It would be to take time, keep an open mind, learn about varied associated fields, identify how you and where you want to grow. Remember – It is ok to be wrong, it is ok to want to pivot to new fields, it is ok to stay where you are, it is ok to leave a valuable opportunity, it is ok to put family before work (a very common situation for women professionals), and finally – it is OK to put yourself first. If you are happy and satisfied, nothing else matters.
Back To Home